Maui Wedding Locations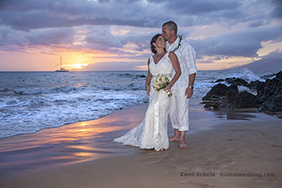 We have been carefully selecting Maui Wedding Locations over the last 22 years! We know the best ones! ( scroll down to see photos of wedding locations) Getting married on Maui. Click here to see hotels and vacation rentals near these locations
Our Favorite Wedding Beaches
We have listed below our favorite island wedding locations. The southwest side of Maui has the best beach wedding venues. This area includes; Kihei, Wailea, Makena and Maalaea. You can also choose to have your ceremony in front of your hotel or condo on the beach. We also do weddings in the Lahaina, Napili and Kapalua area. See deluxe oceanview honeymoon apartment near  best beach locations and License Agent
If you don't see a beach you would like here, please ask us.  See the best beaches here at  http://hawaiiwedding.com/poolenalena-beach-2/
Click/tap on any of the following Maui Wedding & Vow Renewal Locations for additional images/photos and detailed descriptions.
Poolenalena Beach
The Best Maui Beach Our favorite wedding location ( Click on photos for more images) is Poolenalena Beach!  This  South…
Continue reading
Maluaka Beach – Makena
Maluaka Beach – Great beach location in South Maui Maluaka Beach is located in Southwest Maui. This breath-taking location offers…
Continue reading
Sugar Beach Cove
Weddings at Sugar Beach Cove Maui This beautiful beach cove is located on the north end of Kihei, Maui and is…
Continue reading
Ulua Beach
Ulua Beach fronting Wailea Ekahi and Wailea Marriott Ulua Beach is the perfect location for your island beach wedding. If…
Continue reading
Pacific View Country Club
Set within the grounds of South Maui's best scenic ocean-view  golf club, this site is perfect for weddings and receptions. The…
Continue reading
Maui Church Weddings
Maui Church Weddings Our little country church is something from a storybook. We specialize in Maui Church Weddings. With…
Continue reading
Kula Botanical Gardens Weddings
Kula Botanical Gardens Weddings is a beautiful location to hold a your Hawaii wedding wedding or vow renewal. Nestled in the lowlands of the 10,000 foot Haleakala Crater, the Gardens are simply awesome.
Wailea Beach
Wailea Beach Fronting the Four Seasons, Grand Wailea Resort, Marriott, Andaz and Wailea Condos Your Maui wedding ceremony or…
Continue reading
Kaanapali/Kapalua/Lahaina
Kaanapali, Lahaina, Kapalua Beach Weddings Kaanapali, Lahaina, Kapalua Beach Weddings -All beach weddings require a permit from the State of…
Continue reading
Makena Cove
Makena Cove is located at the very south end of Maui. This wedding location is one of the favorites of…
Continue reading
Keawekapu Beach
Keawekapu Beach, Wailea, Maui Weddings A wonderful beach setting for weddings. This Maui beach wedding venue is located on Maui's…
Continue reading