Having your wedding on Maui is fun, easy and affordable. We perform Maui weddings at various romantic locations that you choose. After all, it's your Hawaii wedding and you can have it your way.
Our experienced wedding planner can help you choose a wedding package and coordinate the pre-planning, including the state permit process, license application, vendor hiring, etc.
We offer expertise in a variety of ceremony types including Hawaiian ceremony, Christian ceremony, Jewish ceremony, Spiritual non-religious ceremony and Civil ceremony. More information about each of our various wedding ceremonies is listed below. If you'd prefer to create something a little more individual you can also select from our a la carte menu to order a more customized wedding.
Please do not hesitate to email us at info@hawaiiwedding.com or call us toll-free at 800-859-0072 with any questions. For local and international callers our direct number is 808-891-1208.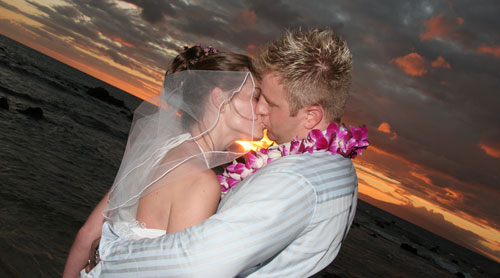 Hawaii Wedding Package 1
• Coordination of State Licensing Appointment
• A Romantic Setting – Beach or Seaside
• Beach right of way permit for couple*
• Licensed Officiate/Minister
• Maui wedding planner
• Two Hawaiian Wedding Lei
• Keepsake Wedding Certificate
* Choice of ceremony:
(Christian, Non-religious, Hawaiian)
See our Ceremonies Page.
$395 + 4% Tax
For groups over 17 guests, additional fee of $150.
For a-la-carte additions, see bottom of this page.

---
Hawaii Wedding Package 2
• Coordination of State Licensing Appointment
• A Romantic Setting – Beach, or Seaside
• Licensed Officiate/Minister
• Maui wedding planner
• Beach right of way permit for couple*
• Two Wedding Lei
• Keepsake Wedding Certificate
• Professional Hawaii wedding Photographer
• Forty Photographs saved on a high resolution CD. Photography is at ceremony location up to 1.5 hours.
• Rights to images and ownership letter also provided at no additional cost. Photo touch-up included free also.
• Additional photography upgrade and prints of images available upon request.
* Choice of ceremony:
(Christian, Non-religious, Hawaiian)
See our Ceremonies Page.
$1075* + 4% Tax**
For groups over 17 guests, additional fee of $150.
For a-la-carte additions see bottom of this page

---
Hawaii Wedding Package 3
Weddings on Wailea Beach fronting THE Waldorf Astoria Grand Wailea, Four Seasons and other Wailea Resorts
Deluxe package includes salon services at the Grand Salon at the Waldorf Astoria Grand Wailea, Maui
• Bridal Hair Up-Do • Bridal Make-up
• Manicure • Pedicure • Dressing Area
• Wedding Minister/Officiate
• Maui wedding planner
• Coordination of State Licensing Appointment
• Ceremony on Wailea Beach fronting the Four Seasons or Grand Wailea Resorts
• Beach right of way permit for couple*
• Keepsake Wedding Certificate
• 2 Wedding Lei
• Forty Photographs saved on a high resolution CD. Photography is at ceremony location up to 1.5 hours.
• Rights to images and ownership letter also provided at no additional cost. Photo touch-up included free also.
• Additional photography upgrade and prints of images available upon request.
• Complimentary valet parking
* Choice of ceremony:
(Christian, Non-religious, Hawaiian)
See our Ceremonies Page.
$2050* + 4% Tax**
For groups over 17 guests, additional fee of $150.
Click here for more details about this Deluxe Wailea Beach package.
For a-la-carte additions see bottom of this page

---
Hawaii Wedding Package 4
• Coordination of State Licensing Appointment
• A Romantic Setting – Beach or Seaside
• Licensed Officiate/Minister
• Maui wedding planner
• Beach right of way permit for couple*
• Two Wedding Lei
• Keepsake Wedding Certificate
• 40 High Resolution Professional Wedding Portraits taken after the ceremony by officiate. Photography is at ceremony location up to 1.5 hours.
• Free negatives- Digital CD of images and ownership letter also provided at no additional cost. Free photo touch-up.
Click here to see Our Ministers' Photo Portfolio
* Choice of ceremony:
(Christian, Non-religious, Hawaiian)
See our Ceremonies Page.
$750*+ 4% Tax**
For groups over 17 guests, additional fee of $150.
For a-la-carte additions see bottom of this page

---
Hawaii Wedding Package 5
• Coordination of State Licensing Appointment
• A Romantic Setting – Beach, or Seaside
• Licensed Officiate/Minister
• Maui wedding planner
• Two Wedding Lei
• Keepsake Wedding Certificate
• Beach right of way permit for couple*
• Professional Hawaii wedding Photographer
• Forty Photographs saved on a high resolution CD. Photography is at ceremony location up to 1.5 hours.
• Rights to images and ownership letter also provided at no additional cost. Photo touch-up included free also.
• Additional photography upgrade and prints of images available upon request.
* Choice of ceremony:
• Professional Videographer.Provides DVD fully edited with music and titles.
DVD is of ceremony and fun/romantic sequences taken after the ceremony.
* Choice of ceremony:
(Christian, Non-religious, Hawaiian)
See our Ceremonies Page.
$1795* + 4% Tax**
For groups over 17 guests, additional fee of $150.
For a-la-carte additions see bottom of this page

---
Hawaii Wedding Package 6
For Couples Traveling to Maui Via Cruise Ship

• Stretch Limo pickup from Kahului Harbor**
• Coordination of State Licensing Appointment
• A Romantic Setting Beach, or Seaside
• Licensed Officiate/Minister
• Maui wedding planner
• Two Wedding Lei
• Beach right of way permit for couple*
• Keepsake Wedding Certificate
• Professional Hawaii wedding Photographer. Photography is at ceremony location up to 1.5 hours.
• Forty Photographs saved on a high resolution CD. Photography is at ceremony location up to 1.5 hours.
• Rights to images and ownership letter also provided at no additional cost. Photo touch-up included free also.
• Additional photography upgrade and prints of images available upon request.
* Choice of ceremony:
After the ceremony and photography session the limousine will return to the Kahului Maui cruise ship dock.
* Choice of ceremony:
(Christian, Non-religious, Hawaiian)
See our Ceremonies Page.
$1550 + 4% Tax**
*Does not include the cost of the cruise.
**Lahaina Harbor pickup will require an additional hour at $125
For groups over 17 guests, additional fee of $150.
Click here for more information on Cruises through the Hawaiian Islands.
For a-la-carte additions see bottom of this page

---
Maui Wedding A la Carte Additions
• Bridal Bouquet from $100 – click here for samples
• Professional Photographer, 40 photos on CD plus rights to those images and ownership letter- $850
• Video – provided on DVD by Professional Videographer – $825
• Flower Circle for ceremony site – $375
• Tropical aisle of pettals – $325
• Guest Lei from $25 (Hawaiian tradition is to provide guests a flower lei)
• Haku Lei (head lei) $75
• Musicians (Hawaiian Guitarist/soloist or Violinist) from $185
• On-site Wedding Coordinator – $150
• Limousine service – $135 hour includes drivers gratuity